New Season is out, you should watch it
---
It's that time of the year again (why does this sound familiar)
Anyway, a new project! I've been waiting for release this one for a while, as I'm rather fond of it.
It's the Jump Square manga known as Binbougami Ga!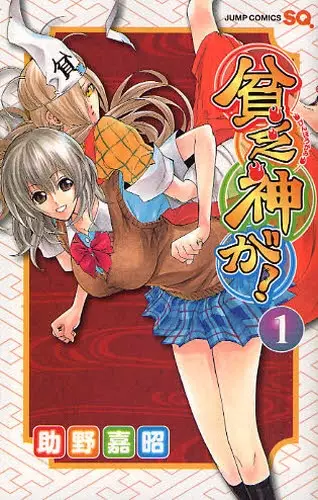 MangaUpdates: Sakura Ichiko is a 16 year old girl who leads a charmed life and is blessed with beauty, brains, and health. She has an abundance of "Happiness Energy", which can make people happy, but at the cost of absorbing all the "Happiness Energy" from her surroundings. She has caused the energy balance of the world to become unbalanced and because of this, she becomes the target of a Poverty God named Momiji. Momiji goal is to remove Ichiko's power of absorbing other people's Happiness Energy and to return all the energy she has taken to its rightful place.
It's a rather funny series, as it is a comedy, and if I had to qualify it, it'd be Gintama-esque comedy.
With this, there's also your double dose of Medaka Box. Double your flavor, double your fun.
(Also, I'm making the links clickable, I'm just trying this out for now, I'm putting up a poll as to whether or not we should keep it like this or if the redirection stuff is too bothersome)
Binbougami Ga! Chapter 01
mediafire.com ?e4h4my27uasreu7
megaupload.com HT2WAZ6C
irc (#cxc@irc.irchighway.net): !Binbougami01
Medaka Box Chapter 65
mediafire.com ?g3optxhb7y8a8tz
megaupload.com QILMIR6G
irc (#cxc@irc.irchighway.net): !Medaka65
Medaka Box Chapter 66
mediafire.com ?q36oyxfpuagb2od
megaupload.com D5C1EHSJ
irc (#cxc@irc.irchighway.net): !Medaka66